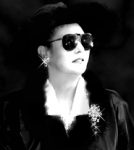 J. D. Crayne was born and raised in Los Angeles and developed an early taste for science fiction, fantasy, and mystery fiction. Her first published short story, "Eat, Drink, and Be Merry," appeared in John W. Campbell's Astounding Science Fiction, under her maiden name, Dian Girard. Additional short stories, including the comedic series about space-age housewife Cheryl Harbottle, appeared in magazines and anthologies throughout the next decade.
After leaving her career as a technical writing manager, Crayne turned her attention to novel-length fiction with the black comedy The Cosmic Wheel, which lampooned sex, religion, and science. This was followed in short order by the Mark Stoddard mysteries—a series of light-hearted tales of murder and mayhem in Northern California—and the Captain Spycer space operas, tongue-in-cheek tributes to the era of pulp science fiction. Crayne calls the Spycer books her "Silverlock for science fiction," referencing the well-known literary pastiche by John Myers Myers.
World-wide controversies over genetic manipulation provided the seed for Crayne's serio-comic Monster Lake, which was followed by Murder at the Worldcon, an affectionate look at 1960s science fiction conventions. Her most recent work includes the adult fantasies Shadow of Sindri and Sindri's Daughter, and another cozy mystery, C is For Catnip.
Crayne lives in rural Northern California with her software-expert husband and six cats. Find out more about her and her books here.
J. D. Crayne's Futures Past Editions eBooks