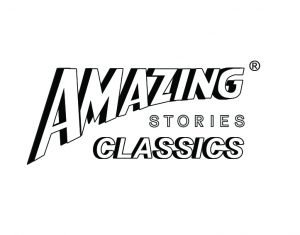 FuturesPast Editions is proud to announce that it has entered into an agreement with Steve Davidson, owner of Amazing Stories, to distribute a line of classic reprints from the magazine's early years under the banner of "Amazing Stories Classics."
Amazing Stories Classics is dedicated to reprinting outstanding stories and novels from the magazine's fabled history. The first-ever science fiction magazine, founded in 1926 by publisher Hugo Gernsback, Amazing Stories, bearing its trademarked comet-tail logo, continues today from Experimenter Publishing Company and Steven Davidson.
First off the drawing board is Amazing Stories: The Giant 35th Anniversary Issue, a reprint of the double-sized 1961 issue rounding up some of the best stories the magazine had published up to that point. A rare collectible, this special issue is available now in ebook and paperback at Amazon (as well as other outlets in the future). It features all the original illustrations by the legendary Frank R. Paul for each story.
Then, we offer you The Best of Amazing Stories: 1926, the first of a year-by-year showcase of the best stories selected from each year of the publication's storied history.
Following under the Amazing Stories Classics imprint are The Best of Amazing Stories 1927 through 1931, and reprints of two widely acclaimed classic novels, far ahead of their time, from the 1930s Amazing Stories Quarterlies: Seeds of Life by John Taine (Eric Temple Bell) and The Nth Man by Homer Eon Flint. Stay tuned for other forthcoming classic novels from the pages of Amazing Stories, starting with Black World by Raymond A. Palmer, and more of our annual "Best of" collections.

Among the many distinguished authors who Amazing Stories has published over the years—with whom we hope to acquaint new readers and reacquaint longstanding fans—are Murray Leinster, Jack Williamson, Leslie F. Stone, John W. Campbell, Jr., Edmond Hamilton, L. Taylor Hansen, Clifford D. Simak, Robert Bloch, Stanley G. Weinbaum, Ray Bradbury, Isaac Asimov, Rog Phillips and many others.
The Best of Amazing Stories: Year-by-Year Anthologies
The Best of Amazing Stories: Year-by-Year Anthologies—Special Collections
Amazing Stories Classic Novels
Amazing Stories Replica Reprints