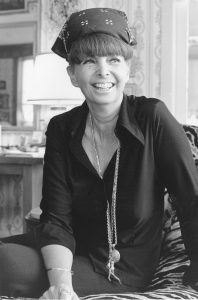 Harriet Frank Jr. (born Harriet Goldstein; March 2, 1923 – January 28, 2020) was an American screenwriter and producer. Working alongside her husband, Irving Ravetch, Frank received many awards during her career, including the New York Film Critics Circle Awards and the Writers Guild of America Award, and several nominations.
Frank began her writing career after World War II, under Metro-Goldwyn-Mayer's young writer's training program, where she first met her future husband. She married Ravetch in 1946 but worked independently for ten years, finally collaborating with him in 1957, a relationship that continued for the remainder of her career. During 33 years of collaboration, they created the screenplays for a variety of films, mainly adaptations of the works of American authors.
Frank and Ravetch maintained a close working relationship with director Martin Ritt, collaborating with him on eight film projects. After initially being suggested by Ravetch to direct The Long, Hot Summer (1958), Ritt would eventually draw the couple out of inactivity on three occasions, hiring them to write the screenplays for Norma Rae (1979), Murphy's Romance (1985) and Stanley & Iris (1990). The last was both the last film directed by Ritt (who died later that year) and the last screenplay by Frank and Ravetch.
Frank is one of the "leading characters" in the memoir The Mighty Franks: A Memoir (2017), written by her nephew Michael Frank, an essayist and short-story writer.
Harriet Frank Jr.'s Futures Past eBooks