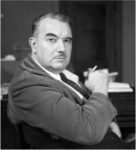 Winner of the World Fantasy, Edgar Allan Poe, Ellery Queen, Locus and British Fantasy Awards, Manly Wade Wellman (May 21, 1903 – April 5, 1986) is considered one of the greatest fantasy writers who ever lived and is one of the creators of the great Weird Tales tradition.
While his science fiction and fantasy stories appeared in such pulps as Astounding Stories, Startling Stories, Unknown and Strange Stories, Wellman is best remembered as one of the most popular contributors to the legendary Weird Tales, and for his fantasy and horror stories set in the Appalachian Mountains, which draw on the folklore of that region. Karl Edward Wagner referred to him as "the dean of fantasy writers." Wellman also wrote in a wide variety of other genres, including historical fiction, detective fiction, western fiction, juvenile fiction, and non-fiction.
Wellman was a longtime resident of North Carolina. In 2013, the North Carolina Speculative Fiction Foundation inaugurated an award named after him to honor other North Carolina authors of science fiction and fantasy.
Three of Wellman's most famous recurring protagonists are John, a.k.a. John the Balladeer, a.k.a. "Silver John", a wandering backwoods minstrel with a silver-stringed guitar; the elderly "occult detective" Judge Pursuivant; and John Thunstone, also an occult investigator.
Wellman wrote under a number of different pseudonyms, including Gabriel Barclay, Levi Crow, Gans T. Field, Hampton Wells, and Wade Wells. He once estimated his output of stories and articles at about 500, of which about 80 were in the fantasy & science fiction genres.
Manly Wade Wellman's Futures Past Editions eBooks