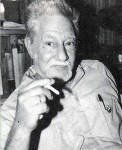 Drexel Jerome "Jerry" Lewis Bixby (11 January 1923 – 28 April 1998; age 75), on rare occasions referred to as Jerry Bixby, but usually as Jerome Bixby, was an American science fiction writer. He wrote the four Star Trek: The Original Series episodes "Mirror, Mirror", "By Any Other Name", "Day of the Dove", and "Requiem for Methuselah". The first of these garnered him a 1968 Hugo Award nomination in the category "Best Dramatic Presentation", which he shared with the director of the episode, Marc Daniels.
Apart from his Star Trek work, Bixby is most famous for the short story "It's a Good Life", which was adapted into a memorable episode of The Twilight Zone. The episode starred Bill Mumy as the boy, and featured Don Keefer. He also wrote the original story for the 1966 science fiction classic Fantastic Voyage (featuring a music score by Leonard Rosenman), that earned him his one year earlier Hugo Award nomination in the same category.
Jerome Bixby's last great work, a screenplay The Man from Earth, was conceived in the early 1960s and was completed on his death bed in April of 1998. Much like the Star Trek episode "Requiem for Methuselah", The Man From Earth deals with the subject of immortality. In 2007, Jerome Bixby's Man From Earth (alternate title) was turned into an independent motion picture executive produced by his son Emerson Bixby, directed by Richard Schenkman and starring David Lee Smith, William Katt, Richard Riehle, Tony Todd, Annika Peterson, Alexis Thorpe, Ellen Crawford and John Billingsley.
The Star Trek: Deep Space Nine episode "The Emperor's New Cloak", the first episode after his death to return to the mirror universe he created, was dedicated to Bixby's memory.
(Bio courtesy of Memory Alpha)
Jerome Bixby's Futures Past Editions eBooks