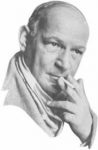 Achmed Abdullah (12 May 1881 – 12 May 1945), a pseudonym of Alexander Nicholayevitch Romanoff, was born in Yalta, Russia to Grand Duke Nicholas Romanoff—a cousin of Czar Nicholas Romanoff—and Princess Nourmahal Durani, the daughter of the Amir of Afghanistan. At the age of 12, he was sent to Eton and then to Oxford University to be educated. Although he was born Russian Orthodox, he was raised as a Muslim by his uncle who adopted him.
Upon his graduation he joined the British Army, and rose to rank of acting colonel during his 17-year military career. He served in India, Afghanistan, Tibet, Africa, China and Turkey, including a year in the Turkish army as a British spy. In the early 1910s, he emigrated to the United States and eventually became a successful, well-paid writer, playwright and later on, a Hollywood screenwriter. Abdullah's work appeared in several US magazines, including Argosy, All-Story Magazine, Munsey's Magazine and Blue Book. At the time, he became the only British subject to receive membership in the French Academy and he also got a doctorate from the College of El-Azar, Cairo in Koranic Studies.
Abdullah is most noted for his pulp stories of crime, mystery and adventure, and wrote screenplays for some successful films. Of these, his best-known work is the novelization of the famous silent film, The Thief of Bagdad (1924). Based on Arabian Nights, the original story was possibly written by Abdullah. It tells of the quest of Ahmed, a thief, who has fallen in love with the daughter of the Caliph. A test is devised to to select the proper husband for her. "Who brings the rarest treasure I will wed," she promises. Ahmed races against the time and other suitors. "Allah hath made thy soul to yearn for happiness, but thou must earn it," says a holy man to him.
Abdullah must have cut quite an imposing figure when seen out in public, with his military posture, impeccable suit, hat tilted just so, gray spats and monocled eye. In 1945 he passed away on his birthday at Columbia Presbyterian Medical Center in New York after an illness of several months. He was survived by his third wife, Rosemary Dutton, whom he married in 1940, a year after his second wife of 20 years, literary agent Jean Wick, had passed away.
(Edited from Abdullah/Romanoff's entries on Wikipedia, IMDB and Books and Writers, where you will find bibliographies, filmographies, and many other details.)   
Achmed Abdullah's Futures Past Editions eBooks